THE VISA
A lot has been said already about successfully securing the japan visa but the best, in terms of price and proximity (at least to me), is Reli Travels at SM Megamall for they only charge Php 1200 for visa application. Normally, they would recommend to apply as a tourist without anyone inviting you to come over to Japan. The reason is that there will be lots of documentary requirements should one opt to be invited as you and your sponsor will both have to prove financial capability to finance your stay. This also costs more as one gotta pay Php 2000 if one has a sponsor and hence, they recommend to simply go there as a tourist without anyone inviting you to stay.
THE CHEAPEST PLANE TICKET
This is not a requirement for visa application but the best deal in town and the cheapest comes from Cebu Pacific with their direct daily flights to Osaka-Kansai International Airport from Manila. Good thing is that Cebu Pacific flight to Osaka, Japan, arrives relatively early (at 8 PM Japan time) so you have enough time to catch your train to the city. Note that taking a cab, unless you are filthy (and I mean really damn filthy) rich, then cabs are the way to go in Osaka. Osaka-Kansai International Airport is located about 50 kms away from downtown Osaka and should not be confused with Osaka-Itami Airport which handles domestic flights from Narita-Tokyo International International and Haneda International Airport.
THE HOTEL ACCOMMODATION
I have stayed at Hotel Shin-Imamiya. This is located just 5 steps away from the Nankai Shin Imamiya Station. In the internet, they noted that this area is touted as the "homeless" district of Japan but hey, for JPY 6000 for 3 nights, I am not complaining since the hotels in Japan are dead expensive. The good thing about Hotel Shin Imamiya is that they are just right outside the Nankai Station so you really wont see any homeless japanese wandering around since I presume they are loitering in the inner streets of the area. So an important tip: Always make sure that if you will opt to stay at Shin-imamiya district, check if your hotel is very near the JR or Nankai train station to avoid hassles.
The Hotel Shin-imamiya, where I stayed for three days, was very clean. Here are some pics: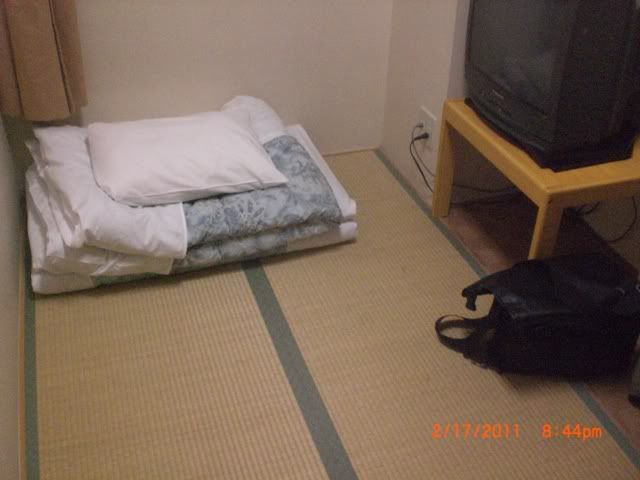 My room
It also has an ensuite toilet and bath. Here is the pic:
The hallway going to my room:
The waiting area where there is free internet:
I will definitely recommend Hotel Shin Imamiya since they got very good prices. The downside of this hotel is that the hotel has NO signboard. The only reason I find it damn easy to locate is that they are just five steps away from the Nankai Exit and right beside the prominently marked Hotel Sun Plaza.
I recommend this hotel because in their waiting area, there is microwave oven that you can use and hot thermos so you can always eat your cup noodles or heat your food that you bought from Family Mart, which is like 20 steps away from the hotel.
Here is a google earth image of the hotel:
WEATHER
Do NOT underestimate the weather in Japan. When I was there, I thought I can bear the cold but boy I was so wrong hahaha. The temp there says 2C but it felt like -5C with me coming home with windburns due to the extreme cold. I always find myself cursing at the bitter coldness and always rushing to the nearest Family Mart to escape the cold weather. Bring bubble jackets and other thermal clothes if you are travelling during winter season. Note that in Kansai, Osaka has the highest temp, with the mercury hitting lower in the other prefectures like Kyoto, Nara, Kobe or Himeji.
THE RAIL PASS: JR West Rail Pass vs. Nankai's Surutto Kansai Pass
This is a very important decision point that you have to make. If you have no plans to go to Tokyo or your itinerary mainly involves Kansai Region (Nara, Kobe, Kyoto, Himeji, etc), then I strongly recommend the Surutto Kansai Three-Day Pass. Note that both the three-day passes of Nankai and JR cost JPY 5000.
The reason is simple: with this Nankai's Three-day pass, you get to use, unlimited, not only any line EXCEPT JR in Kansai, but it also includes the use of subways in Kyoto, Kobe, and Osaka. If you buy the JR pass, it does NOT cover the subway lines of these three cities so it is way better and you save more if you use the Surutto-Kansai Three Day Pass.
Important tip: if you arrive via Cebu Pacific, just buy a separate ticket for you to get to downtown Osaka from Osaka Kansai INternational Airport. The reason: masasayang lang ang 1 day sa three-day pass if you use it at about 9 PM of Day 1 just to get to your hotel. Just buy a single journey ticket for JPY 880 for a limited express and reserve your pass for three full days since it will be counted as day 1 if you use it on your date of arrival=).
Note also that if you use Nankai 3-day pass, do not look for Osaka Station because Nankai uses NAMBA Station as its main Osaka Hub. From the airport, take the Airport Express Namba so that it will not stop at all stations (the trip from Osaka Airport to Shin Imamiya station is roughly 45 minutes). Avoid LOCAL trains as these trains stop at every station and thus making your trip longer. If you have the money to spend, you can take the Airport Express Rapit. This is super fast train but more expensive. You are better of at the Airport Express train.
My recommendation, therefore, is to buy the Surutto Kansai Three-Day Pass. Note that you can only get one pass: either JR Pass or Surutto Kansai Pass. For the Surutto Kansai Pass, you can buy these at the Travel Desk right outside the arrival area of the airport.
I guess this ends the pre-flight preparations for the Osaka trip=)
More to come=)