Beijing has been one of my top travel destination and yesterday, April 28, I was able to visit the country for just 3 days.
I grabbed Cebu Pacific's Php 888 sale and the roundtrip ticket that I bought is only Php 2600 for RT travel. Then came the challenge of getting a China visa. It was easy and for my application, I submitted my passport, picture, application form, certificate of employment, my withholding tax exemption since I have no ITR, and bank certificate. I wont go into details of securing China Visa as much has been said about it in many other forums.
The gameplan was simple: I gotta go to The Great Wall at Mutianyu, Summer Palace, Temple of Heaven, Forbidden City, Tiananmen Square, and Olympic Square. With that, I consulted pinoyexchange and planned the trip.
I booked a hotel at Php 900 a night at Happy Dragon Hostel in Dongsi. The hotel was very near Dongsi Exit C and it was about 5-minute walk to get to the hotel from the terminal station.
TIP: In selecting a hotel, it has been recommended that it should be near the subway. To narrow down your choices, check if the subway near your hotel is Line 1. The reason: Line 1 appears to be the busiest train line kaya I would recommend to look for hotels along Line 5 or Line 2 to avoid the hassle of commuting via train. Their subway is worse than our MRT, at least in terms of the number people taking it and the way Chinese literally shoves everyone in their path just to get on a train.
If travelling in a group, say four or more, it is perhaps better to take a cab since you split the cab fare. Of course, the risk of miscommunication due to language barrier is there but you get to the place comfortably.
The First Mission: Going to Mutianyu
The blogs have extensively discussed how to go to Mutianyu and there are conflicting statements as to where to start going to Mutianyu.The good thing is that as the picture below, taken from the Mutianyu Bus Terminal says, there is a direct service bus from Dongzhimen direct to Mutianyu. The first bus leaves Dongzhimen Outer Way Bus Terminal at 7 AM, 8 AM and 9 AM. You gotta tell the driver you are going to Mutianyu Great Wall and the fare is RMB 16. They will tell you that their return trip, from Mutianyu Bus to Dongzhimen starts 2 PM.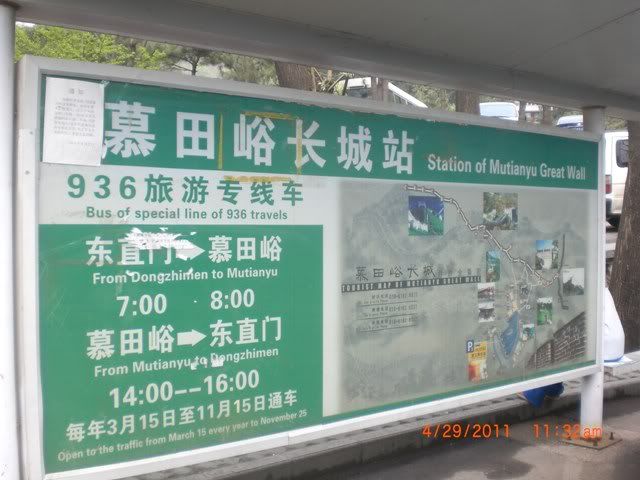 Note that the Dongzhimen Outer Way Bus Terminal, where you are taking the bus 936, is different from the Dongzhimen Public Bus Terminal. Below is a picture that you can bring should you want to ask for direction:
Below is a picture of the bus terminal: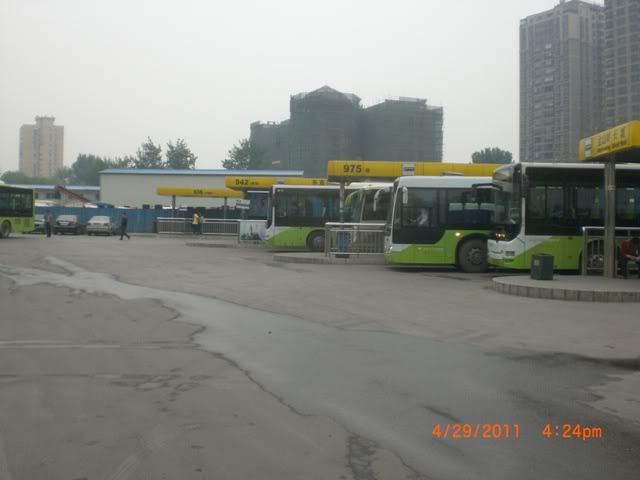 Note that the bus 936 only operates during peak tourist months, that is, from March 25 to November 25. If the bus is not in service when you go to Beijing, then your option is to take Bus 916 then transfer to a cab ti get to Mutianyu.
TIP: When taking the bus, a conductor will be issuing tickets if you did not use your yikatong/parang octopus card to pay for your fare. Just like our bus conductors here, you will pay as soon as the conductor gives you your ticket.
It is important to note that if you will go to Mutianyu via Bus 936, you will pay RMB 32 for a return bus ticket and RMB 60 for the entrance fee, a total of only RMB 92, as opposed to joining the package tour of RMB 280.
You need not worry if you will miss your stop as the conductor will make sure that he will drop you off at the Great Wall Mutianyu since he will motion you to stop or sit down if you attempt to get off. The Bus 936 exchanges drivers at Huairou, then make another stop at the end of Huairou for the conductor to remit his fare collection, before finally proceeding to Mutianyu. You will know that you are near Mutianyu if the bus is travelling an uphill road. IF you see this Subway Sandwiches Mutianyu Great Wall Branch, you are now at the entrance of the Mutianyu Great Wall.