Time to give back and report what happened in my Taiwan tour=).
Took Cebu Pacific from Manila to Taipei.I made lots of preparations for this trip especially on the visa part. I made my research on getting a Taiwan visa here: http://www.taiwanembassy.org/ph/. This is where I learned that Taiwan visa is very expensive, costing Php 2400 per application. Since I always travel on a budget, I decided to make things a bit difficult BUT less costly. My decision: get a Japan visa for only Php 1200 at Reli Travel (http://www.relitours.ph/) in SM Megamall since walk in applications for Japan visa are no longer allowed. The reason I chose Japan Visa over US, Canada, Australia, New Zealand, or Schengen in lieu of Taiwan visa is because Japan visa is cheaper and it is more realistic for me to go to Japan than to the other visas that can replace the Taiwan visa requirement. Good thing I was given a visa 3 days after I passed my application so this is it! Planning started for the Taiwan tour.

Upon checking in at NAIA T3, i noticed that almost 90% of the pax are Taiwanese and unlike my experience in HKG, these Taiwanese guys are talking in soft tones, very unlike the people of Hongkong na parang magkakagalit pag nag-usap. In fact, these Taiwanese peeps seem to be always smiling and warm people.

True enough, I realized na mas ok nga ang mga tao dun unlike any other Chinese city. When we arrived at Taoyuan Intl Airport, medyo na-late yung dating nung susundo sa amin from our hostel.
Pic of Taoyuan Airport Arrivals
The guy from the Hotel Concierge Counter in the Visitors' Area approached me and said that if I can give the number of the hotel, he can call them up and check the status of the driver. Indeed, after talking to the hostel, he approached us again that if the driver wont come in 10 minutes, he will accompany us to our hostel just to make sure that we will get there. Good thing dumating naman yung driver who picked us up .

TIP: It is NOT advisable to bring PHP and exchange in NTD in Taipei since in downtown Taipei, FOREX or money changers are very few and very far between and they do NOT accept PHP, unlike in HKG or SIN na bawat kanto meron napapalitan. This is crucial since when we arrived, I had USD 200 tas the rest in PHP na so I kinda panicked when I realized that I cannot change my PHP. I tried to withdraw money at ATMs using my BPI pero not accepted yung card.
At that time, I decided that this is a sign that I should work around the USD 200, so that's only NT6000. With only NT 3000 left since I paid NT 3000 to the hostel, I decided to scrap the plan on hiring the taxi and just take the public transpo to go to the places. I also came up with the plan that if worse comes to worst, I can go to the airport the following day since dun lang nag-aaccept ng PHP to NTD. (it was only in my last day that I tried sa ATM sa 7-11 and I was surprised na tinanggap naman and was able to withdraw money).

TIP: How will you know if your card will be accepted by the ATM machine? One logical thing is to look for the Mastercard/Maestro/Cirrus logo combo BUT when I tried withdrawing at the Taipei Floral Expo, it failed. I tried once more at Taipei Main Station and it failed again. Thinking that my card will be blocked, I did not attempt to get money again until my last day. When I tried it during my last day at 7-11 (all 7-11s that I saw had ATM machines inside), the transaction was successful. My observation: if after entering your PIN and encoding your amount to be withdrawn and the machine will not ask you to select whether Union Pay, Mastercard, or International Credit Card, then your transaction will be successful. In my first attempts kasi, the machine prompted me to select one of those instead of the usual dispensing of cash after entering the PIN and amount.

The first business of the day is to get EASYCARD for NT 500. Easycard is like Octopus Card or EZ Link Card of HKG or SIN. After eating free breakfast (bread lang and lots and lots of coffee), I walked from the hostel to the Taipei Main Station. This is like Hong Kong Central that can get one really disoriented upon entrance. Sobrang daming arrows, exits, spots, shopping malls, hotels, etc that it can overwhelm someone. This is where their High Speed Rail, MTR, Bus, usual Train, and other public transpo converge so finding the MRT can be a challenge. After purchasing the Easycard, I went to the platform of the MRT and I was surprised to see Taiwanese peepz falling in line to enter the trains and even in the escalators. And they do not push people to get in the train and patiently wait for their turn (to think na single line lang sila pag pumila so tlagang sobrang haba ng pila but they do not mind. Very orderly sila, as they will not block the train door and rush for the train when it arrives as they will let the passengers alight first and once nakababa na, that is the only time sila papasok).
I alighted at Yuanshan station to visit the Taipei Floral Expo and ang haba ng pila=(. TIP: when I arrived there, I was about to buy the ticket when I noticed that for Easycard holders, no need to fall in line and just tap the card for NT 300. Then I saw a post that if I enter after 1 PM, NT 180 na lang so I decided na 1 PM na lang ako babalik and just head to Xinbeitou since they are both on the same MRT line (red) to Beitou then transfer to Xinbeitou station. I then took the MRT to Beitou and went straight to Xinbeitou.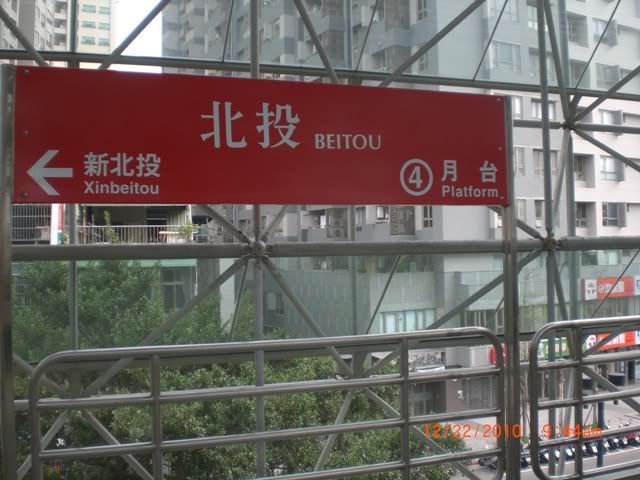 Upon exiting Xinbeitou station, you will see many arrows directing you to the many resorts and hot springs, including the Thermal Valley.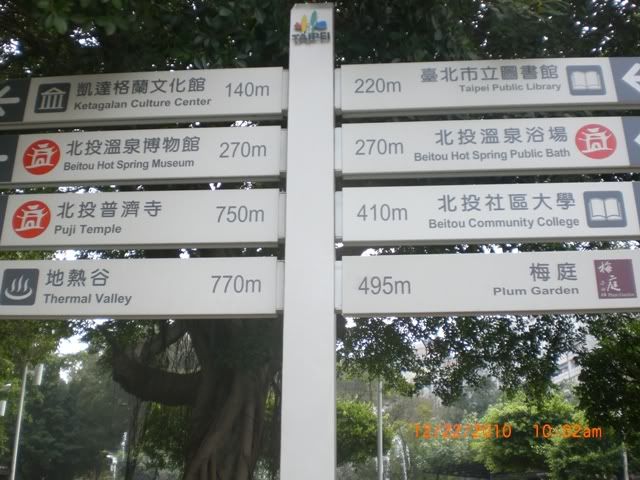 Here are some pics of the Xinbeitou and the places that you can see once you exit the MRT station.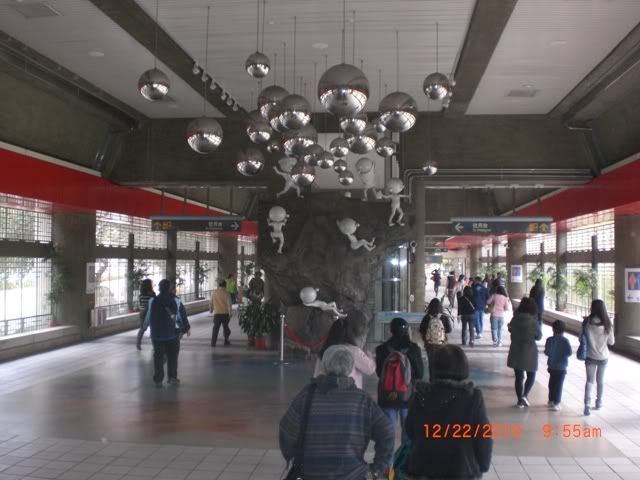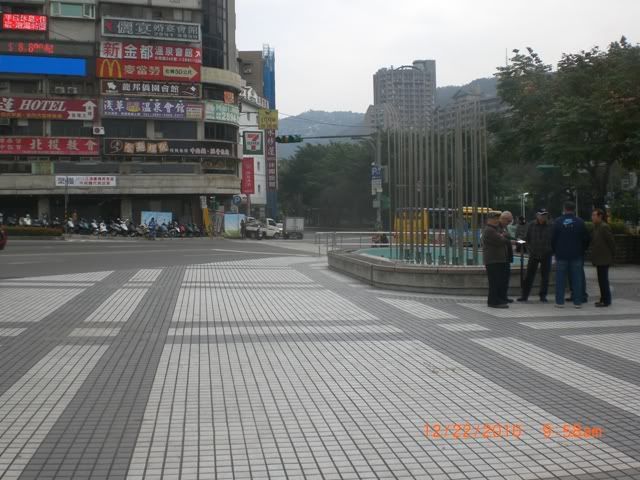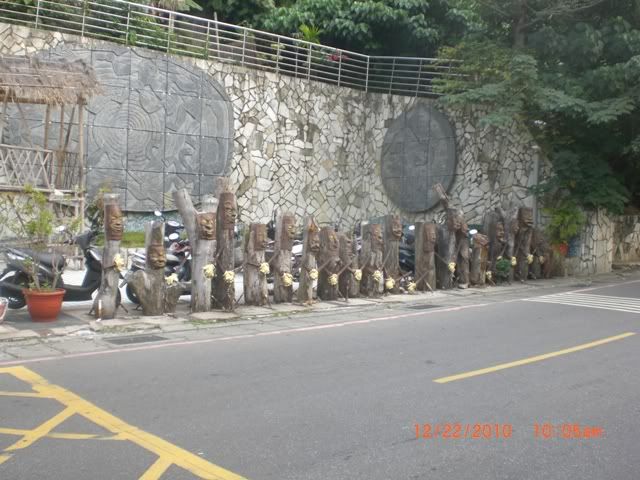 One of the interesting shops that you will see on your way to the Xinbeitou Thermal Valley.
After exiting the train station, you can see many arrows that point you to the location of Thermal Valley (770 m but a bit inclined road) so pwedeng pwedeng lakarin. There are many interesting things along the way that is picture-worthy so the walk is OK. Along the way, you will pass by the Taipei Library and Plaza where there are many good spots. There's also a stream where hot water gushes so you can actually soothe your feet by dipping them. The walk from Xinbeitou is like walking from the SM Annex of SM North all the way to The Block, though the roads are uphill=)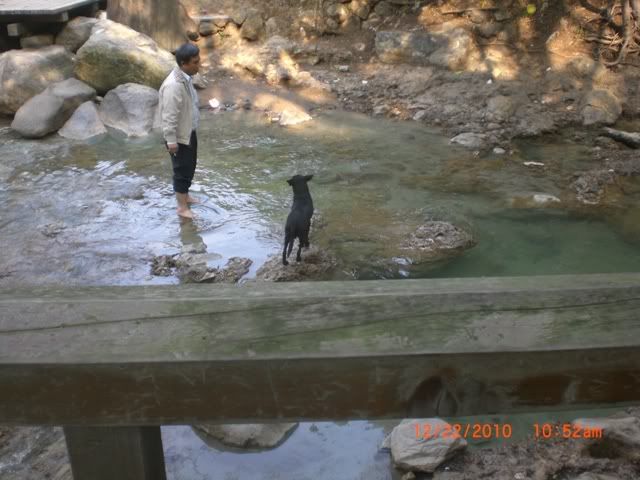 Thermal Valley
Around 1 PM, I returned to the station but since my feet were aching, I decided to ride Bus 288 from the Xinbeitou to Yuanshan, where the Taipei Floral Expo.
Another TIP: If you use your Easycard, not only will you escape the long lines, you can also get a discount of 10%!
Here are the pics: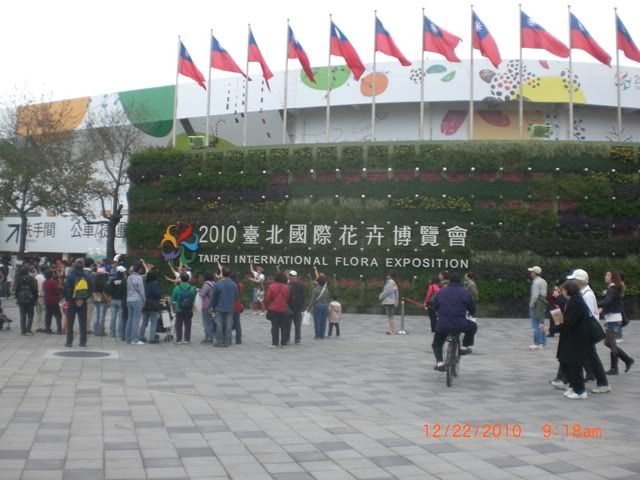 After that, went to Shilin for the night market and tried some food and bought some pasalubong.
The following day is spent for the Yangmingshan and Yehliu Geopark. I have to cancel my booking with the cab and just take the public transpo to get to Yehliu due to issues related to my inability to withdraw money from ATM and the difficulty of looking for a money changer in Taipei that accepts Php. From my hostel, I walked to the Taipei West Bus Station Terminal A to take the Kuo Kuang Bus 1815 for Jinshan.
VERY IMPORTANT TIP: The Taipei West Bus Station Terminal A is DIFFERENT from the Taipei Bus Terminal which is located just across Taipei Main Station. The Taipei West Bus Station Terminal A is located just across Shin Kong Mitsukoshi / K Mall.
Another TIP: inside the Taipei Main Station, you will see signs that say Taipei Bus Station but this station does NOT have buses that go to the Taoyuan Intl Airport and Bus 1815 to Yeliu. You need to look for the signs inside the Taipei Main Station that says Taipei West Bus Station Terminal A (this is Z3 exit). Likewise, it is not recommended to use the underground to go to the Taipei Taipei West Bus Station Terminal A as it involves going through many stairs and extremely long walks which can be a real problem if you have heavy luggages with you. My recommendation: just walk outside and look for the Taipei West Bus Station Terminal A.
To help you out in going there, just print out this picture that I took of Taipei West Terminal A and hand it to the taxi driver to avoid confusion that you want to be conveyed either to the Taoyuan Airport or Jinshan: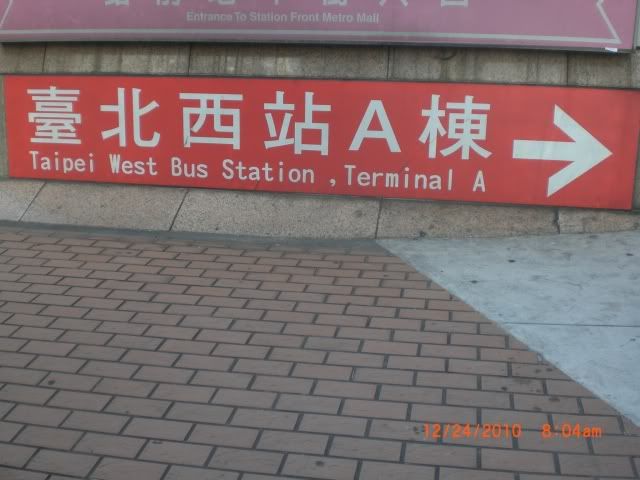 This is how the Taipei West Bus Station Terminal A looks like from the outside: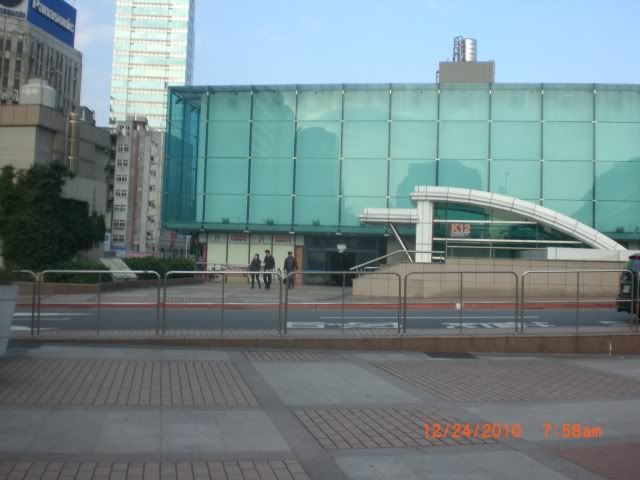 I used my Easycard in paying my fare to Yehliu since meron sya discount as opposed to lining up and paying the ticket at the counters. Armed with a printout of Yehliu Geopark, I approached the driver and asked to drop me off at this spot. The driver smiled and after that, it was a 1.5-hour bus ride from Taipei West Terminal A.
VERY IMPORTANT TIP: Though the bus drivers here are really very nice and eager to help, it is important for you to bring a printout of the stop where you wanna get off to go to the Yehliu Geopark. Simply show this to your driver and then just tell your driver to inform you if its time to get off. The fare to Yehliu is NT 90. Also, this landmark can be seen if you will sit on the right side section of the bus. Also, make sure that you sit near the driver so he can easily inform you that this is your stop.
Here are some images of Yehliu. The walk from the picture above to the Geopark is actually near, distance is like the walk from Ayala MRT to Manila Penn. You wont miss it as there is only one main road and just go straight. Here are some images.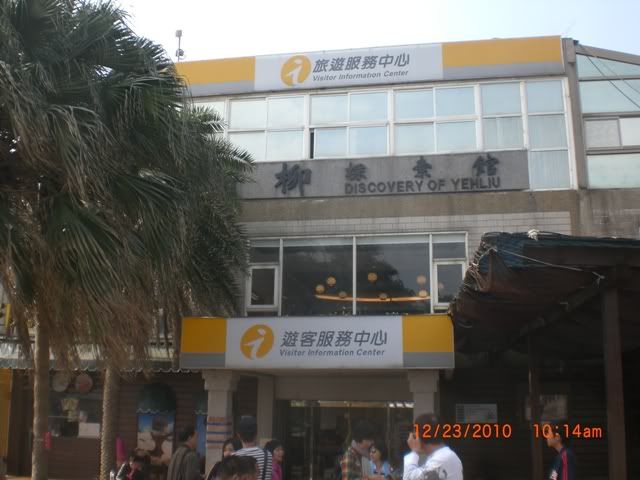 The entrance fee to the geopark is NT 50 so its really very cheap. Here are some images of the geopark.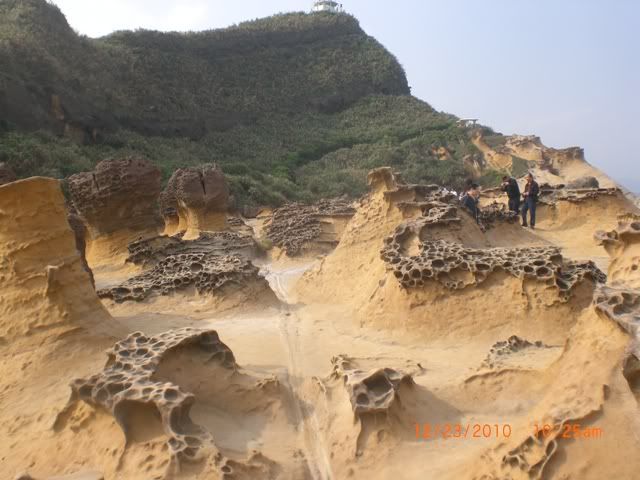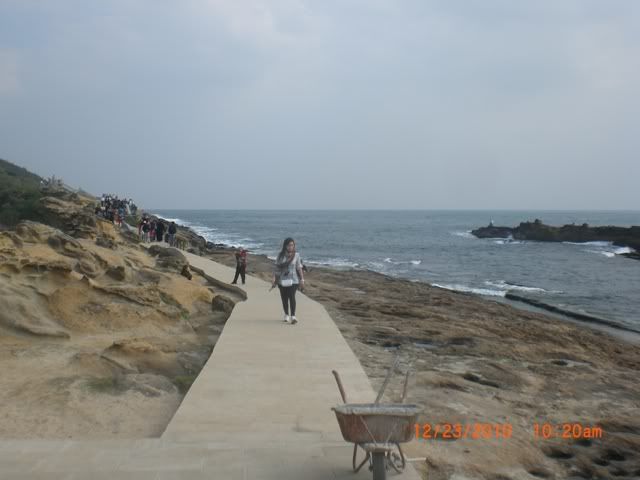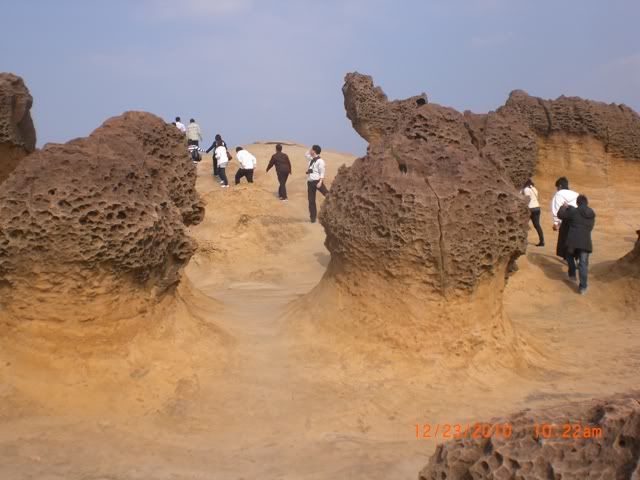 From here, we took lunch at 7-11 in front of Yeliu Geopark. The rice boxes there are cheap for only NT 50, you have pork tonkatsu, rice, steamed vegetables, 2 pcs of dumplings, and some local dessert and sweet ham. Of course, you can buy the milk tea for only NT 20 for a 600-ml drink=). During my stay in Taiwan, this is where I get my meals: either from the street food or from 7-11 or Family Mart since they have the best offer in town=).
From Yeliu, I boarded again the bus to Jinshan and checked out the old street. there is a Visitors Tourist Center in Jinshan so you wont be lost. From there, I returned to Taipei to go to Yangmingshan via Bus 260. While going there, i sorta experienced deja vu. Turned out, the bus is going towards Xinbeitou since Yanmingshan is near that area.
Oh, and my camera battery died on me so no pictures for this leg. Will try to post some more detailed budget and items on the second part of this Taiwan tour:-D